A B O U T H E N N A

H E N N A H I S T O R Y

H E N N A A F T E R C A R E

H E N N A G A L L E R Y

H E N N A G I F T

C O N T A C T

M A S S A G E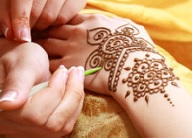 Healing Muscle Therapies offers henna art services. Treat yourself to a private mehndi/henna session with Marti at her studio in Lake Geneva.

INTRODUCTORY SPECIAL: Private session fees average $25 to $45 based on design choice and go up for more intricate designs.


Admired as an exotic lovely decoration; think of henna art as jewelry for your skin that is temporary, unlike a permanent tattoo. Best of all...when the henna fades, you can have a new design applied! To plan for your session, see HENNA AFTERCARE.